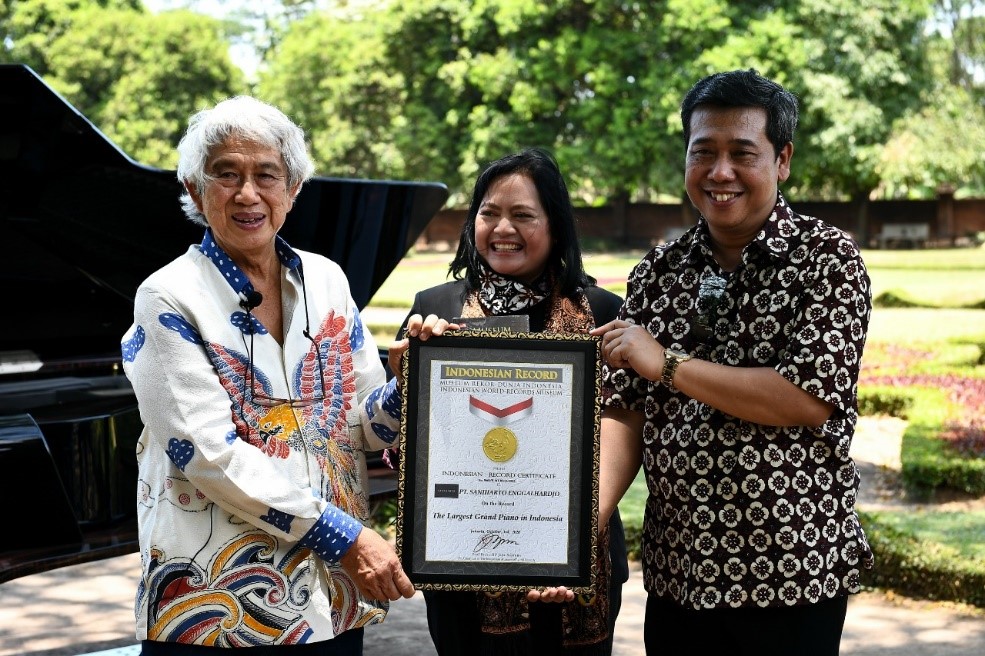 The Indonesian World Records Museum (MURI) named the Sjuman-Renanda SR1928 The Awakening Concert Grand Piano by SANIHARTO Craftsmanship as the "First Concert Grand Piano Made in Indonesia". The piano has a dimension of 3.1 x 2.1 x 1.1 meters (10'2" x 6'11" x 3'7). The Ceremonial Handover was conducted at the Gapura Bajang Ratu Temple in in Mojokerto, East Java on October 3rd, 2020.
The MURI Record Award was handed over directly by MURI Senior Manager Sri Widayati to the President Director of PT Saniharto Enggalhardjo, Harsono Enggalhardjo.
Senior Manager MURI Widayanti said the initial proposal was to be the biggest piano in Indonesia with an Indonesian record category. However, Mr. Jaya Suprana, said that this spectacular work was the first to be made in Indonesia.
"For this extraordinary work. Mr. Suprana confirmed this record as the first grand piano made in Indonesia. So, it is categorized as a world record. In MURI it was recorded as the 9,664th record,". "There has never been a record for the biggest piano before. This is the first in Indonesia," said Widayati.
Some of the news can be accessed on below links:
https://news.detik.com/berita-jawa-timur/d-5198678/piano-sepanjang-31-meter-ini-sabet-rekor-muri
https://www.kompas.tv/article/113578/keren-grand-piano-pertama-buatan-anak-bangsa-mencatat-rekor-muri
https://www.kompas.tv/article/113389/rekor-muri-grand-piano-pertama-buatan-indonesia
https://www.facebook.com/KompasTV/videos/755080638558015/
http://surabayapagi.com/read/muri-catat-rekor-grand-piano-pertama-buatan-indonesia
https://nusadaily.com/culture/eksotisme-candi-bajang-ratu-pikat-pianis-untuk-berikan-sentuhan-di-grand-piano-anak-negeri-hingga-mancanegara.html
https://www.instagram.com/p/CF8fhj3AIVA/?igshid=r7xt8xludzb7
https://www.gettyimages.com/photos/robertus-pudyanto?family=editorial&phrase=robertus%20pudyanto&sort=newest#license
https://www.shutterstock.com/editorial/search/*pud
https://kompas.id/baca/humaniora/dikbud/2020/10/03/kolaborasi-menarasikan-warisan-kejayaan-nusantara/
https://www.antaranews.com/berita/1762509/sr1928-grand-piano-pertama-indonesia-mendapat-penghargaan-muri
https://jatim.kompas.tv/article/114592/rekor-dunia-grand-piano-pertama-buatan-indonesia
https://surabaya.tribunnews.com/2020/10/03/sjuman-renanda-sr1928-grand-piano-pertama-buatan-anak-bangsa-pecahkan-rekor-muri-di-bumi-mojopahit
https://www.lnnewstoday.com/2020/10/grand-piano-sjuman-renanda-sr1928.html?m=1
http://www.aslimojokerto.com/2020/10/maestro-ananda-sukarlan-konser-daring.html?m=0
https://www.instagram.com/p/CF6aA-uAPJx/?igshid=v5v1xeh40zea
https://www.instagram.com/p/CF4qrbuB8l5/?igshid=1cyvqq1jv1sy1
https://news.detik.com/foto-news/d-5199180/ini-lho-piano-terbesar-buatan-indonesia
https://analisadaily.com/berita/baca/2020/10/04/1010307/foto-rekor-muri-piano-terbesar-buatan-indonesia/
https://www.google.co.id/amp/s/m.akurat.co/1219501/piano-terbesar-buatan-indonesia-mendapat-penghargaan-rekor-muri
https://foto.tempo.co/read/83660/grand-piano-pertama-indonesia-pecahkan-rekor-muri
https://www.google.co.id/amp/s/amp.suara.com/foto/2020/10/04/065500/inilah-piano-terbesar-buatan-indonesia-yang-mendapat-rekor-muri
https://amp.antarafoto.com/seni-budaya/v1601727915/rekor-muri-piano-terbesar-buatan-indonesia
https://amp.antarafoto.com/seni-budaya/v1601727905/rekor-muri-piano-terbesar-buatan-indonesia
https://foto.kompas.com/photo/read/2020/10/04/16018183830e1/Piano-Terbesar-Karya-Anak-Bangsa-Raih-Rekor-Muri
https://www.google.co.id/amp/s/www.inews.id/amp/multimedia/photo/piano-terbesar-buatan-indonesia-masuk-rekor-muri-akan-konser-keliling-indonesia
https://m.medcom.id/foto/hiburan/3NOqlXok-grand-piano-pertama-indonesia-peroleh-penghargaan-muri
https://www.tagar.id/foto2/2991/Foto+Piano+Terbesar+Buatan+Indonesia+Raih+Rekor+Muri/0
https://kumparan.com/kumparannews/foto-rekor-muri-grand-piano-pertama-buatan-indonesia-1uJwUNbTawr
https://foto.tempo.co/read/83660/grand-piano-pertama-indonesia-pecahkan-rekor-muri
https://inilahmojokerto.com/2020/10/03/eksotisme-konser-piano-seharga-rp-25-m-di-candi-bajang-ratu-raih-rekor-muri/
https://www.vidio.com/watch/2040073-piano-terbesar-raih-penghargaan-muri
https://www.vidio.com/watch/2040533-piano-terbesar-di-indonesia-pecahkan-rekor-muri
https://surabaya.liputan6.com/read/4375688/video-piano-terbesar-karya-anak-bangsa-pecahkan-rekor-muri
https://news.detik.com/berita-jawa-timur/d-5198678/piano-sepanjang-31-meter-ini-sabet-rekor-muri
ADDITIONAL LINK :
https://www.timesindonesia.co.id/read/news/300771/piano-terbesar-di-mojokerto-mendapat-penghargaan-rekor-muri
http://kebudayaan.kemdikbud.go.id/bpcbjatim/konser-virtual-kolaborasi-menduniakan-warisan-nusantara/
https://www.msn.com/id-id/video/topvideos/rekor-muri-grand-piano-pertama-buatan-indonesia/vi-BB19Kcqn
https://muri.org/category/rekor/musik/
https://dinamikasultra.com/2020/10/03/grand-piano-pertama-indonesia-mendapat-penghargaan-muri/
https://www.suara.com/foto/2020/10/04/065500/inilah-piano-terbesar-buatan-indonesia-yang-mendapat-rekor-muri
https://ijn.co.id/sr1928-grand-piano-pertama-indonesia-mendapat-penghargaan-muri/
https://akurat.co/news/id-1219501-read-piano-terbesar-buatan-indonesia-mendapat-penghargaan-rekor-muri
https://www.hebohnews.com/video/read/rekor-muri-grand-piano-pertama-buatan-indonesia-4740008
https://kurio.id/app/articles/5f78844fa6b286ba40b7ed2f
http://berita.baca.co.id/56460133?origin=relative&pageId=79880f7b-5338-4aff-92d1-536b6ddb272e&PageIndex=3
« back to news