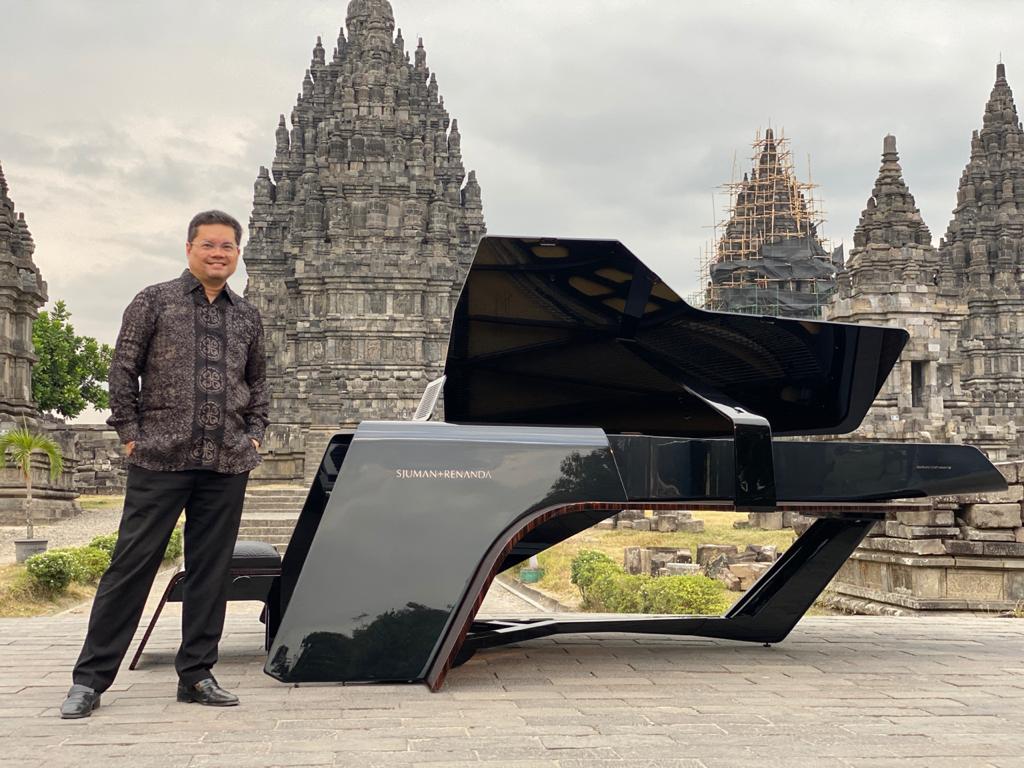 Together with Ananda Sukarlan and the Indonesian Directorate General of Culture, SANIHARTO supports the advancement of culture and the nation's cultural wealth through the "Rapsodia Nusantara & Kejayaan Nusantara" Concert at Prambanan Temple.
The song titled urip iku urup from the classical music composition Rapsodia Nusantara, began a series of concerts of the archipelago's success, initiated by the Ministry of Education and Culture of the Republic of Indonesia, at Prambanan Temple, Sleman, Yogyakarta. Composer and pianist Ananda Sukarlan played 16th of his works in this concert. The concert can be enjoyed through Budaya Saya Youtube channel, on September 27th at 19.00 WIB.
This time, Ananda Sukarlan took advantage of the sunset moment in Prambanan Temple and named the event "Prambanan : A Twilight Tryst". Right at sunset, Ananda played Rapsodia Nusantara No.25. Ananda wanted to show the process of changing the color of the sky in Prambanan when the sun began to set. The concert was supported by guest stars like singers Mariska Setiawan and Widhiawan Aryo Pradhita who sang the various songs based on the poetry of the late Sapardi Djoko Damono, Hasan Asphani and Khrisna Pabichara.
This was all played on Saniharto manufactured Sjuman+Renanda SR1928 The Awakening Concert Grand Piano. No other furniture manufacturing company makes pianos. Not just an ordinary piano but a Concert Grand Piano which reaches 2.75 meters (108") in length and weighs almost 1 ton (2,200 lbs). Another specialty of this piano is in its futuristic design courtesy of Architect Raul Renanda and in its musical capability courtesy of Musician Aksan Sjuman.
Some of the news can be accessed on below links :
Youtube channel "Budaya Saya" starting on September 27th, 2020 at :
https://www.youtube.com/watch?v=tPZuM7E7zb0&t=490s
SCTV
https://www.vidio.com/watch/2020718-pentas-piano-di-candi-prambanan
Liputan6.com
https://www.liputan6.com/lifestyle/read/4361765/piano-seharga-rp25-miliar-bakal-dimainkan-di-situs-trowulan
Kompas TV Jateng
https://www.youtube.com/watch?v=mvgkX7QPWhI
Kompas TV Nasional
https://www.youtube.com/watch?v=bvLxOPpFmHQ
IDN Times
https://jateng.idntimes.com/life/inspiration/larasati-rey/piano-buatan-indonesia-seharga-rp25-m-dimainkan-di-candi-prambanan
RMOL JATENG
https://www.rmoljateng.com/read/2020/08/29/29889/Ananda-Sukarlan-Mainkan-Rapsodia-Nusantara-No.-25-di-Candi-Prambanan-
« back to news