17 February 2015
In collaboration with Francine Lestari Interior Design, Saniharto launched Tresna Collection at Saniharto Showroom in Jakarta. Tresna means Love which is the concept of the design.
The collection is based on the designers' love for furniture and interior design. Some of the shape of the furniture represents hug. Hug is a universal form of intimacy, holding each other closely. For example, the console symbolizes the hug concept which we designed the leg and body to hug the top table.
Love is about blending and supporting as well. That is why two or even more different materials are incorporated in each furniture. It symbolizes support towards one another. The names of each furniture were taken from the people that the designers love and have a big influence in our life.
The style of the collection itself is more about completing not competing against other furniture. Francine Lestari tried to use a simple colour palette such as Mahogany, Nyatoh and Koto. Champagne color metal finish was chosen to give an edgy look while at the same time remain timeless and elegant. The furniture is to represent our timeless and elegant luxurious style. Some are more towards monochromatic scheme which can be seen on the bedside table and credenza. The 14 items of the limited collection is available to purchase as is; and with the nature of customization, Saniharto will give the flexibility of owners to order within the sizes they desire to fit their space.
Tresna Collection consists of Alaric Console, Alice Coffee Table, Angela Bed, Devlin Credenza, Citta Arm Chair, Gitta Side Chair, Kinny Pedestal, Mahendra Nightstand, Pasek Dining Table, Peter TV Cabinet, Sacca Side Table, Santosa Desk, Theodore Armoire, Yani Bench. Please go to PRODUCTS to see these items in details.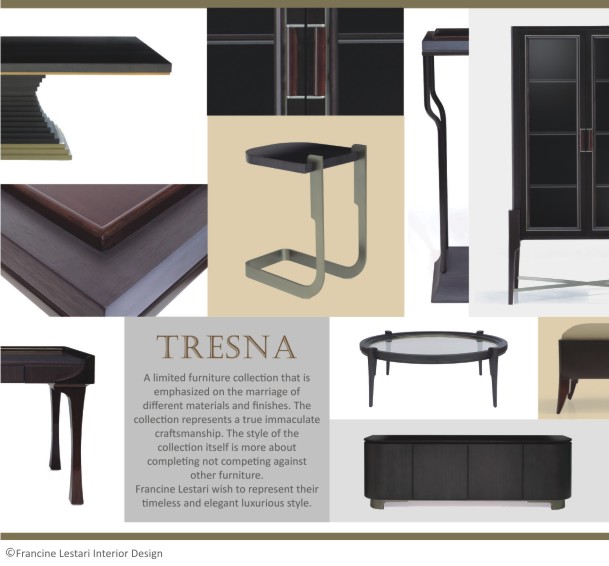 « back to news