26-27 November 2014
This year is Saniharto's 3rd consecutive participation at Sleep. At this Europe's leading trade event, Saniharto hopes to showcase its bespoke furniture manufacturing capability again to the many visiting architectural, design and purchasing firms as well as ownership and operator groups. Having a truly International client base, Saniharto is pleased to promote its activities in Europe and in particular UK.
Following our successful collaboration at Hospitality Design Expo 2014 in Las Vegas with Francine Lestari Interior Design, Saniharto is working with Francine Denise & Mudita Lestari and their team again for Sleep this year to provide an example of Designer/manufacturer collaboration. Having studied InteriorDesign at Nottingham Trent University, Francine Denise is familiar with the European aesthetics and to combine both culture and current trends, we have jointly come up with the "ABU" concept.
Saniharto is bringing new wood finishes to the design of the booth to showcase this concept, Abu meaning grey in Indonesian. We are introducing some grey veneer collection combined with the brown veneers to create a luxurious and modern feel of the room. One of the highlight and centre of attention is the high gloss Elm Burl as the back panel of the bed. As rich as it already is, we tried to introduce the Elm Burl in a different colour that will still feel glamorous and trendy. With the high gloss finish, this look serves very well to the ABU room with an elegant and rich perfect with the right combination of finishes.
This booth represents Indonesia's excellent craftsmanship from Saniharto, a leading International high end manufacturer and a great design introduction for the ABU Room by Francine Lestari.
Saniharto displays how manufacturer and designer can work together and invites people to call in and visit the Saniharto booth to discuss how as a manufacturer we can support projects and achieve that beautiful bespoke high end environment.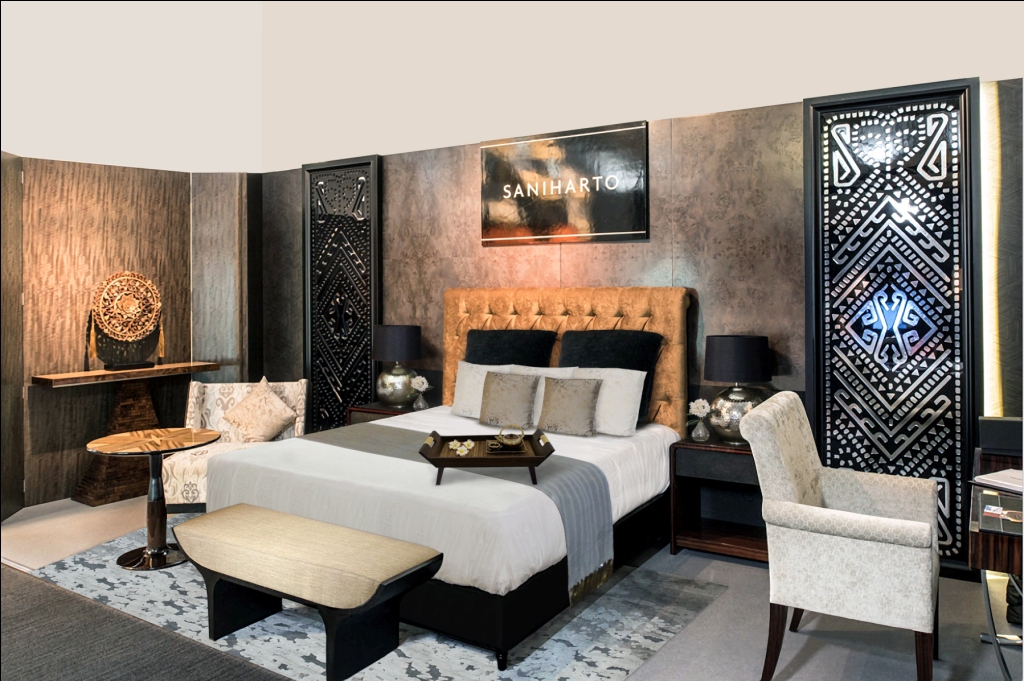 « back to news